Quality doesn't cost....it pays!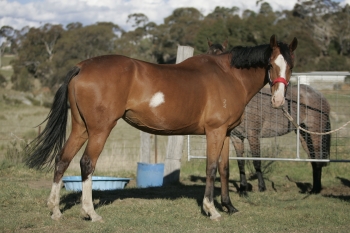 Our Joys Gift
SALE PENDING 2002 ASB mare
This Saddler's Wells grandaughter has the nicest gentle nature. She is super kind and sweet and just a pleasure to be around. She is in foal to Got It In Vegas (pictured second below). A bargain price of just $3300 and foal is RAcing NSW BOBS eligible. Don't miss this bargain.
Official Australian Stud Book Pedigree
Sadler's Wells (USA) 1981

Northern Dancer (CAN) 1961
Fairy Bridge (USA) 1975

Festival Hall (IRE) 1996
Foal ref: 43:981

Handsewn (USA) 1981

Sir Ivor (USA) 1965
Thong (USA) 1964

Our Joy's Gift (AUS) 2002
Foal ref: 42:1783

Creese (GB) 1983

Kris (GB) 1976
Quest (GB) 1978

Our Alcyone (NZ) 1992
Foal ref: 27:442

Extradite (NZ) 1983

Travolta (FR) 1978
Imperial Queen (NZ) 1974